Latest News at the top, latest results in the window at the bottom of the page:
You are reading the Super One Series archive website, this is no longer being updated from 11.5.10 but is maintained for archive news and results. Please visit www.s1series.co.uk for the new website.

Super One Series welcomes StingrayRV as title sponsor in MSA (replacing Renault Sport) and Rotax Series:

Stingray RV has replaced Renault Sport as Super One MSA Series' headline sponsor with immediate effect, also extending their support into the Rotax Series. "We would like to welcome Stingray RV to the Super One, and look forward to a long and mutually beneficial relationship, giving exciting new opportunities to our customers on both sides," said Super One Marketing Director John Hoyle. "I would like to thank Renault Sport UK for their valued support over the last six years, they have contributed through a period of exciting expansion, which will now continue with Stingray RV," he added. Read more . . . . or download the promo video.
TV Broadcasts - now started on MotorsTV - see dates below. If any competitors would like a copy of their race, then either:
a) Send a USB stick in a jiffy bag with a stamped address return label (Note a 39p stamp will not be enough, put the correct postage on both to ensure processing and return) and post to Alan Taddei - PSC Productions, PO Box 3652, Chester, CH1 9PJ stating the race you want. When you get the file, drag it to your iTunes folder for iPhone, iPod or convert for your website. Each file is about 170MB.
b) Take a USB stick with your name on it to Alan at the next televised round (round 3) in the JKH shop between 1000 - 1300 on Saturday only, and your race will be copied across for you.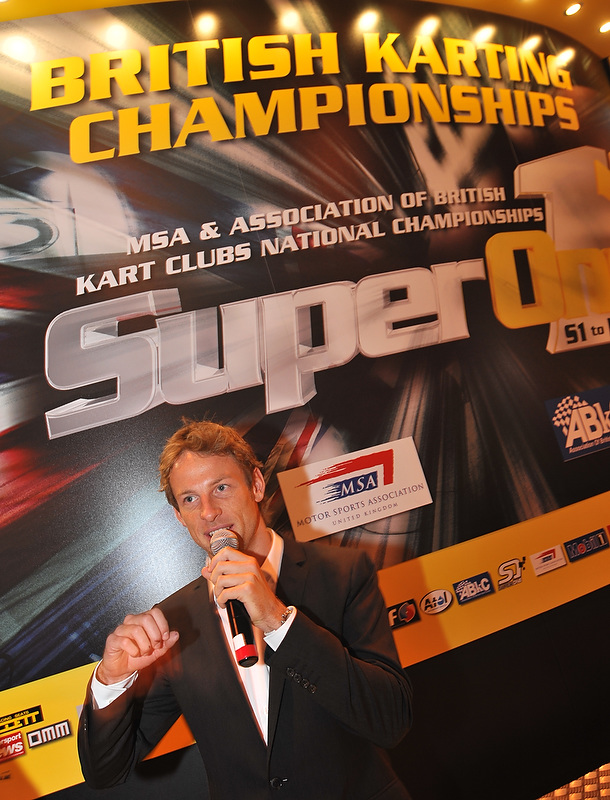 Super One drivers meet Formula One World Champion Jenson Button
Vodafone McLaren Mercedes driver Jenson Button wowed Super One drivers and their families during his visit to the Super One Series stage at the 2010 Autosport International Racing Car show. The reigning Formula One World Champion timed his visit to make the awards in the 'MSA' classes, allowing every seeded driver present to have a moment of glory shaking hands with Jenson as well as Colin Hilton, the Chief Executive of the MSA.
The British driver, who joins Lewis Hamilton at Vodafone McLaren-Mercedes this season, admitted that he had expected a big crowd, but nothing had prepared him for the reception he was given at the show. "It's been so nice," said Button. "I've had many months to think about today and being at Autosport International as World Champion. I obviously had my expectations because I've been here before, and it's always been busy. But today was amazing, I was blown away."
Prizes amounting to over £60,000 of cheques and vouchers were distributed to the seeded drivers in the MSA British Championship and ABkC National championship classes during the Saturday 16th January prizegiving on the splendid new stand at the show. This was followed by a celebratory dinner at The Belfry, the prestigious country club and golf resort set in 550 acres of finest English countryside, not far from the NEC, where 250 supporters and officials of Britain's biggest and best karting championship sat down to enjoy an evening of prime entertainment.
Many drivers took the chance to enter the 2010 Series, taking registrations 50% higher than last year's figure for the same time.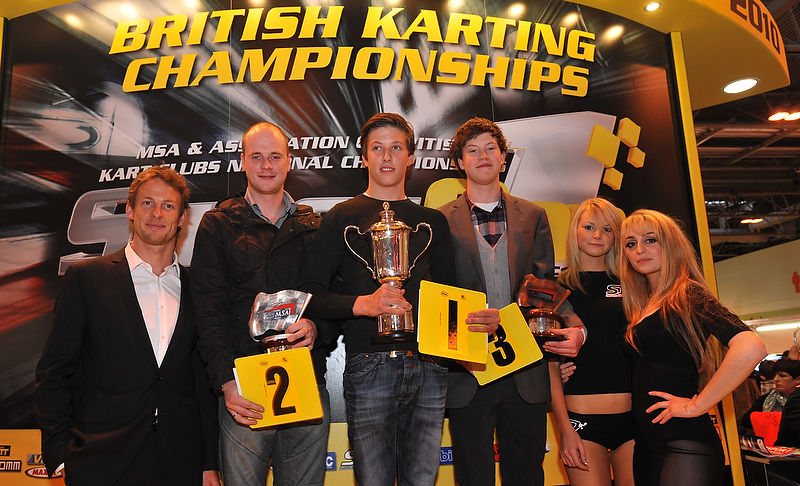 Already 421 drivers have put their names down for this year. This is made up from 111 in the Comer Cadet/KF classes, 210 in the Rotax classes and 100 in the TKM classes. Over 400 drivers entered for the 2009 season, and the expectation is that this could easily be exceeded this year. Drivers in all classes are excited by the prospect of full television coverage beamed to 17.7 million homes. In each one hour programme, all the drivers on the grid for the final will have their name mentioned and a photo image displayed, along with any sponsor information. Some drivers have already signed up sponsors based on the opportunities arising from the television coverage. Another innovation in these classes is that each kart will carry a HD mini camera (optional in TKM/Honda Cadet), the video being used both to augment the TV coverage, and also for judicial purposes. Instructions for setting up the TV Camera are in the Forms page.
Tal-Ko have stepped in to secure television coverage for the TKM and Honda Cadet classes, and give a boost to the series. The entry fee, to include TV, will now be £140 per round, with four rounds televised, and on-board cameras optional. See this press release for details.
The registrations and entries as at 26th February are:
| | | | | | |
| --- | --- | --- | --- | --- | --- |
| 'MSA' Series | Totals | Rotax Series | Totals | TKM Series | Totals |
| Cadet | 50 | MiniMax | 60 | Junior TKM | 27 |
| KF3 | 33 | Junior Max | 67 | TKM Extreme | 31 |
| KF2 | 15 | Senior Max | 63 | Junior 4-stroke | 0 |
| Super KF | 17 | Max 177 | 20 | Senior 4-stroke | 16 |
| TOTAL | 115 | | | Honda Cadet | 25 |
| | | TOTAL | 210 | TOTAL | 99 |
| Grand Total | 424 | | | | |
TKM drivers especially are urged to send their registrations immediately, a minimum of 15 are really needed in each class. (Note guest drivers may only compete in one round.) The registration deadline in TKM / Honda Cadet / KF has been extended to 1st March. Final approved regulations now on the more info page. All MSA Championship permit numbers now issued. Official Bulletins amending regulations are available on the More Info Page.
Nutts Corner Travel and hotel information is on the Forms page
Practice/race possibilities at Buckmore Park and Shenington
Super One drivers please note practice is available:
Buckmore Park: 14 - 16 May; 18 - 20 June
Shenington: Thursday 15 April; 17-18 April (TKM O Plate); 15 - 16 May; 18 - 20 June; 18 - 19 July; 14 - 15 August
A suberb deal on engine and/or kart rental is on offer to TKM 4-stroke competitors
Tal-Ko and JKH have joined forces to offer a suberb engine and / or kart rental deal to Super One competitors. See this press release for full information on prices.
All drivers are urged to send their head & shoulders picture to Alan Taddei plus driver profile without delay.
See the Forms page for an example of the grid graphics and the Driver Profile forms
Advertising in the Programme
The S1 Series would like to offer the opportunity of advertising in the Super One Series race programme which offers amazing value, starting at only £110 for the whole year (inquire for 2011 costs). Your advert will be shown in the programme of all three series of the Super One, 20 rounds in total with over 5000 copies distributed. Programmes are a high quality glossy booklet that goes direct to each driver and is given away at the gate at each event to each spectator. It is a useful reference document, and not something that is likely to be discarded. Booking forms are on the website www.s1series.co.uk
Paddock reserved parking
Teams are reminded to send in the preferential pit and paddock reserved parking booking forms as soon as possible but in any case these need to be received with the correct payment or vouchers before 1st March 2010. The parking will work in a similar fashion to last year. During 2010 only teams on the preferential reserved booking list will be able to enter the circuits between 9.00 am and 12.00 noon on the Thursday prior to the meeting. All other non-registered teams and competitors will be able to enter after 12 noon and NOT before. Teams on the preferential registered list will have their spaces held until 8 am on Saturday morning.
Marketing Director John Hoyle said: "This is all shaping up to be a special year in Super One, with television coverage coming back, and increased numbers in all the Rotax classes and Super KF. The Rookie prizes give a great incentive to first time entrants and remember in 2009 the total prize fund for the year exceeded £80,000 in cash and vouchers. We are very grateful for the on-going support of our sponsors, the ABkC, Renault Sport, Bridgestone, Maxxis, Vega and Dunlop, J.A.G. Engineering, Tal-Ko, Zip Kart and Anderson-CSK, JKH and of course the MSA. I would just re-iterate that, in my opinion and that of many others, the series offers great value for money and is without doubt the best the UK has to offer."
Motors TV Transmission Dates:
Confirmed dates for the first television transmission of each one hour programme will be 8.10 pm on Monday evenings. Repeats usually follow throughout the week, and again at the end of the year. Both the MSA and Rotax series will have Rounds 1, 3, 4, 5 and 7 covered, making sure all tracks have at least one airing and the TKM series will have four out of the six rounds covered.
Please note for your diary, the initial screening of the Rotax events will be on 5th April, 24th May, 12th July, 9th August, and 25th October. The MSA events will be screened on 29th March, 14 June, 5th July, 23rd August and 8th November. The TKM events will be on 19 April, 28 June, 6 September and 18 October with the TKM Festival being aired on 23 August. MSA and Rotax events go out to some 18 million homes across Europe, whilst the TKM series will reach some 16 million as France does not take this programme.
Jenson Button interview on the S1 stage at Autosport International 2010 (see picture above left). (Tip - if this does not play with your plug in, right click and save to your hard drive and play from there)

Play the Youtube video above of Jenson with the KF3 MSA Junior British Championship top three
2010 Series information - S1 Director has issued a statement about the entry fee increase of 2010, read more. All information is on the Forms and More Info pages. The KF, Comer Cadet and Rotax classes will be televised in 2010, see this information sheet, with more details here, beaming to 17.7 million homes. A decision on whether to televise the TKM classes will be made shortly.
KartMania 2009 - Competitors had their first glimpse of the splendid new Super One stand (picture to left). The on board video camera proposed to be used for judicial purposes in some classes for 2010 was also on display, prices still to be advised, picture to right.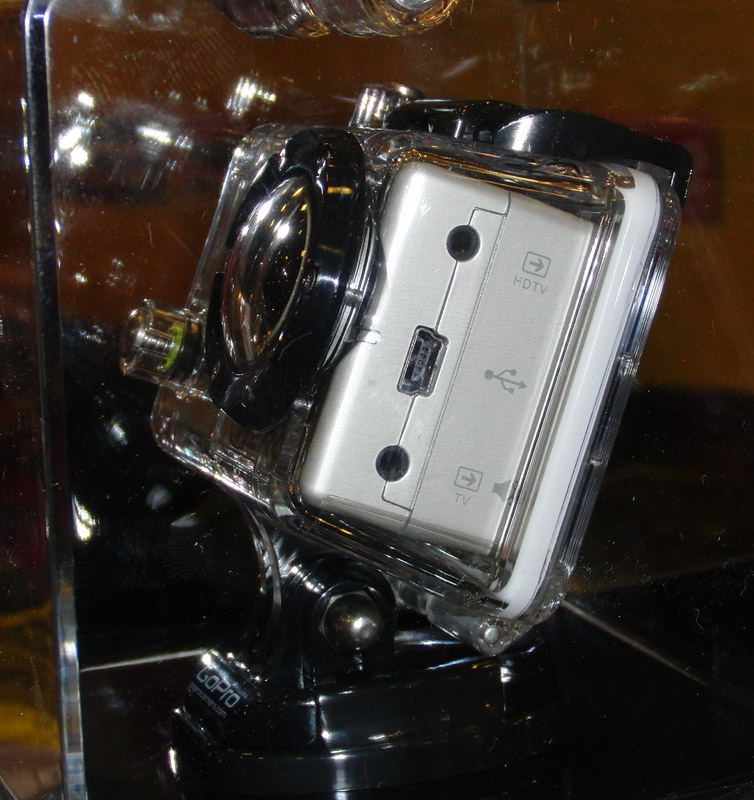 KF3 Drivers - please note the new age limit for 2010: Year of 13th birthday to 31 December of year of 17th birthday. Minimum licence grade Kart National A. Drivers who have not reached their 13th birthday must provide evidence that they have held a National A licence for at least 12 months prior to competing in this class.
Cadet tyres for 2010: The Super One Series will drastically reduce the use of new slick dry weather tyres for the Comer and Honda Cadet class in 2010, helping competitors to cut the costs of entering the series. Drivers will have to buy a new set of tyres for Rounds 1, 3 and 5, then have the choice of buying new tyres or using their current tyres for round 7 (Comer Cadet only). read more here. The used tyres will be sealed at these rounds and taken away by the Super 1 and returned for the following round. This could more than half the tyre bill. Marketing Director John Hoyle said: "We have listened to competitors, and want to help drivers on a tight budget where ever we can, still keeping consistency and a level playing field for all Drivers After such a successful season this year, we are bringing in yet more innovations for the new year, whilst keeping our proven format very similar. This worthwhile step helps with the green issues, less tyres will be discarded whilst they still have useful life in them."
Free race tyres for KF1 in 2010 Super One and 2009/10 Winter Series
Dunlop in conjunction with Paul Fletcher have extended their agreement to provide the first twenty-five competitors in the Super KF class – which is the MSA British Kart Championship – with a free set of race tyres per round in both the 2009/10 KF Winter Series and the 2010 Super One Series. Russell Anderson, whose company distributes the Dunlop tyres for kart racing, said: "Dunlop is delighted that the KF1 class has held up well on entries this year, and we are very pleased to be a partner in this venture. Dunlop is very happy to put this sponsorship of free race tyres back into the sport and have noted that the participation in karting has been very good this year, and not declined like some other forms of motorsport." The KF Winter Series will commence on November 14/15th at Shenington (further details from Sonja Game on 01869 320157) and the Super One registration details will be available from November on the www.s1series.co.uk website. Paul Fletcher, who runs his eponymous team in the series and owns the PF International kart circuit, which is to host a qualifying round of the KF2 and KF3 CIK European championship next May, said: "I think it is very important that KF1 is differentiated from the graduates that come into KF2, and in my opinion we must keep the elite KF1 class going in the U.K. I notice that in Japan all the top drivers choose to race in KF1. And there's no reason why the best KF3 junior drivers should not graduate directly to KF1, it helps them to battle with the best."
Who's who in Super One: The Super One Series wishes to announce that John Hoyle, the well known proprietor of JKH, has joined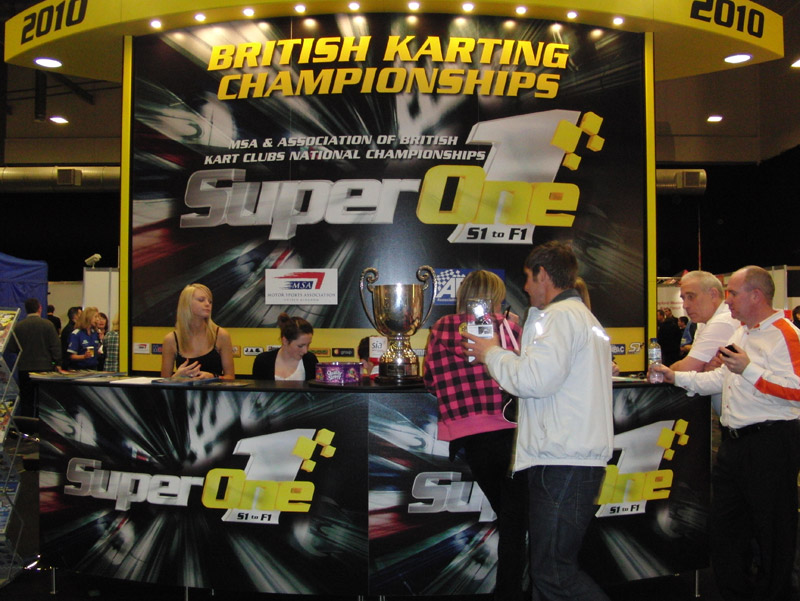 the series from 2009 as a director and will be concentrating on marketing and promotion. Super One promoter Neil Hann said: "I'm very pleased to welcome John as a fellow director, I know he will work hard to promote the series and take it on to even greater achievements, and this management reorganisation enables me to share the workload." The Series is probably the largest national kart championship in Europe, if not the world, and has a 26 year history producing many fine champions such as Jenson Button and Lewis Hamilton who have gone on to become household names. John Hoyle said: "I am very excited about this new challenge and I plan to take on most of the day to day running of the championships. As an enthusiast of the sport, like Neil, I will listen to the competitors, our customers, and plan to keep Super One as the biggest and best kart championship for many years to come. The series is already taking a step forward with the new 2009 format, and I will carefully study the outcomes, and make any further changes needed in 2010. I will also be available at all events from Thursday mornings to help with parking and any issues arising." As well as having the SuperSports timing system and live timing screens in the paddock, a further innovation from 2009 will be the presence of Grid Girls for the Sunday races.
Senior officials:
Super One Promoter: Neil Hann
Marketing Director: John Hoyle
Series Co-ordinator: Sonja Game; Timekeepers: Kath Taylor, Zoe Laws
Technical Commissioner: Paul Klaassen
Clerks of the Course: Rod Taylor, Alan Bryant, Phil Cox, Martin Bean & Nigel Edwards who acts as team/driver liaison
Control Fuel supplier: ATOL (Anthony Webb)
Unilogger & Onboard camera assistant: Hannah Edwards
Webmaster & PR: Graham Smith
MiniMax championship points and final positions for 2009 re-issued following the exclusion from the PFI meeting of Jack Barlow. The amended points table has again been amended on 1.1.10 to correct an error regarding 11th and 12th places. See results pages. Seeded numbers are therefore amended.
Facebook member?: Check out the Super One facebook entry:
Trade/Team Parking and Programme Advertising 2010: Contact John Hoyle
Tyre Prices: Please note that the 2010 tyre prices will appear on www.abkc.org.uk and are on the tyre order forms, see Forms page
The Super One Series supports the MSA Go Motorsport and Lets Go Karting projects.
GO HERE FOR THE ARCHIVE NEWS PAGE

Latest Results