News Archive for the Super One Series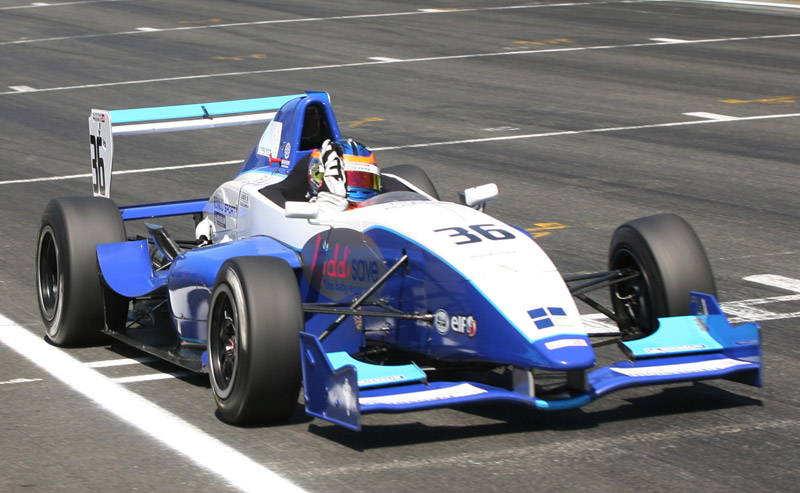 Prize single seater test drive for 2009 KF1 British Champion: Manor Competition are offering a test drive in one of their front running single seaters to this year's KF1 British Champion, Robert Foster-Jones. See this press release for more details. Picture by Jake Ebrey.
Clutch checks in KF1, KF2, KF3 in 2009: Following on from the successful use of the UniLogger from UniPro to monitor the clutches at the first round of the MSA British championship series it has been decided to use them at all future rounds. Obviously there will be costs involved in this exercise and Super One is intending to purchase a unit for each competitor which is going to mean an investment of just short of £14,000. The Super One team are asking each driver to buy the fitting kit. This is a small investment considering the overall cost and Super One feel that in the long run this will save drivers money by not having to buy new clutches for each round and in some cases each race. All drivers have now agreed to this proposal. The regulation amendment is shown on the regulations page. All drivers now need to purchase the fitting kit via this order form.
And now all Rotax entrants have also agreed to use the Uniloggers to check for excessive clutch slip. Download the Fitment Kit Order Form and accompanying letter. The regs applied will be as follows: "The engine clutch must be triggered at 3000 rpm maximum and make the kart with driver onboard move forward. The clutch must be in direct drive (and 100% engaged) at 6,500 rpm."
Max Challenge Grand Finals: BRP Rotax and JAG Engineering will again offer free entries to the top Junior Max and the top two Senior Max drivers in the Super One Series, subject to age limits and compliance with the regulations. The second placed senior will be given his entry in the DD2 class. Should the entry be declined it will be offered down the final points table listing. This year's Grand Finals are to be held at the Ghibli Raceway at Sharm El-Sheikh Red Sea resort, Egypt, from 7 - 12 December, for more details visit:
http://www.maxchallenge-rotax.com/event2009/grand_final.html. More details about the prize drives from JAG Engineering.
Rotax Steel Clutch (mandatory in the 2009 series): Notice is given to all Rotax competitors that only the new steel clutch is permitted in the championship, see regulations for more information and compliance criteria.
New Rotax cylinders for 2009: The ABkC wishes to clarify the situation regarding the new '09' Rotax cylinder, which is on the 2009 fiche. BRP Rotax said that the performance target for the new cylinders is to reach the performance level of existing good cylinders. The new cylinders can be retrofitted to all existing ROTAX MAX engines on the market. The new senior Max cylinder (part No. 223 993) is now available as a spare part and on new engines and is now eligible to be used for racing in the U.K.
The revised Rotax engine fiche will be available from the MSA, covering all engine variants.
The new junior Max cylinder (part No. 223994) has been on limited availability as a spare part and on new engines. JAG have advised there are now sufficient cylinders in stock to satisfy the market. Until now, these new junior cylinders may only be sealed with 'Rotax' seals (not UK seals) in order that they may be raced in the Euro Challenge. New junior cylinders may not be sealed with UK Junior 'JAG' seals for UK racing until further notice, awaiting an MSA decision. The ABkC has been advised that the new cylinder may show a slight improvement over current best engines in Junior Max. They have also been advised that the new cylinder does not seem to provide any advantage over current best engines in MiniMax, and thus engine sealers are advising customers not to have the '09' cylinder fitted to their best engines. Neither the MSA nor the ABkC will condone an increase in performance for the MiniMax class. The rrp of the cylinder is £280 plus vat and the fitting cost is approx. £60 without a piston or other parts. For a limited period JAG will offer a 15% discount on the fitting kit (includes piston) or cylinder, until the end of August. The ABkC regrets the inconvenience to drivers, who may decide to change to the new cylinder mid-season, but at straw polls at various venues drivers have told ABkC representatives by an overwhelming majority that they wish to have the new cylinder brought in asap. The ABkC made a recommendation to the MSA on the way forward, and the MSA have agreed that the new cylinder will be eligible in competition from 10 June 2009. Engine agents may in the meantime seal the engine with the black 'Senior' seal, which will become eligible to use in the Junior and MiniMax classes as of that date. JAG will be able to exchange Euro seals for British seals at the Super One meeting at Buckmore Park, and will have a supply of '09' Junior cylinders with them as well. Contact JAG directly to make any arrangements. Issued: 22.03.09
The Super One Series wishes to announce that John Hoyle, the well known proprietor of JKH, has joined the series from 2009 as a director and will be concentrating on marketing and promotion. Super One promoter Neil Hann said: "I'm very pleased to welcome John as a fellow director, I know he will work hard to promote the series and take it on to even greater achievements, and this management reorganisation enables me to share the workload." The Series is probably the largest national kart championship in Europe, if not the world, and has a 26 year history producing many fine champions such as Jenson Button and Lewis Hamilton who have gone on to become household names. John Hoyle said: "I am very excited about this new challenge and I plan to take on most of the day to day running of the championships. As an enthusiast of the sport, like Neil, I will listen to the competitors, our customers, and plan to keep Super One as the biggest and best kart championship for many years to come. The series is already taking a step forward with the new 2009 format, and I will carefully study the outcomes, and make any further changes needed in 2010. I will also be available at all events from Thursday mornings to help with parking and any issues arising." As well as having the SuperSports timing system and live timing screens in the paddock, a further innovation for 2009 will be the presence of Grid Girls for the Sunday races. The series has already attracted 420 registrations for the 2009 championships.
Facebook member?: Check out the Super One facebook entry:
Trade/Team Parking and Programme Advertising 2009:
Introductory letter from John Hoyle and Programme Advertising information.
Trade and team reserved parking booking is now open.
With more good news, the SuperSports Timing systems will be used in the Super One Series from 2009 with access to greatly enhanced analysis of results by drivers. Read more. Yet more investment by the series organisers.
Registrations for the 2009 Super One Series as at mid February have reached 420 with more coming in daily: Competitor entry lists as at 14/02/09 are linked to the class names in the table below. DD2 is regrettably not going to be run this year due to insufficient entries (only 7). Registrants can apply for a refund of their registration fee or transfer to another class. 2010 details when available.
| | | | | | |
| --- | --- | --- | --- | --- | --- |
| MSA Series | | Rotax Series | | TKM Series | |
| | 36 | | 52 | | 23 |
| | 42 | | 46 | | 32 |
| | | | 47 | | 12 |
| | 37 | | 22 | | 14 |
| | 20 | | 7 but withdrawn | | 21 |
| TOTAL | 135 | | 172 | | 102 |
The Super One Series promoters and officials would like to congratulate Lewis Hamilton on his brilliant success in winning the 2008 F1 World Championship. Lewis Hamilton was the Super One 1995 Cadet Champion, and the 1997 Junior Yamaha Champion, proving that "S1 to F1 really is a reality"
KF Clutch Data logging equipment during 2009: Drivers in the KF classes in Super One (and the KF Winter Series) should be aware that datalogging equipment may be fitted to their karts to monitor the performance of the clutch, by comparing engine rpm with road speed and analysing any clutch slip. The equipment is fitted as per the following photos courtesy of www.kartpix.net
2009 Dates for Super One:
| | | | |
| --- | --- | --- | --- |
| Round | MSA | TKM | Rotax |
| 1 | 21/22 March PF International | 7/8 March Fulbeck | 4/5 April Whilton Mill |
| 2 | 9/10 May Shenington | 11/12 April Glan y Gors | 25/26 April Rowrah |
| 3 | 6/7 June Rowray | 23/24 May Larkhall | 13/14 June Buckmore Park |
| 4 | 4/5 JulyWhilton Mill | 27/28 June Clay Pigeon | 11/12 July Larkhall |
| 5 | 22/23 Aug Nutts Corner | 15/16 August Beccles | 29/30 August Shenington |
| 6 | 12/13 September Larkhall | 3 /4 October Buckmore | 19/20 Sept PF International |
| 7 | 17/18 October Fulbeck | | |
Note: 'MSA' rounds, only 5 out of 7 to count (or 10 out of 14 rounds), the rest usual 5 out of 6 for TKM, 10 of 12 for Rotax
MSA and Rotax Series: Timed practice and a heat for all on Saturday afternoon
TKM Series: 3 heats for all (and two finals) starting on Saturday afternoon for 2010
S1 Series MSA British Championship for KF1 2009: The first 25 KF1 drivers to register in 2009 will receive one set of slick tyres FREE at each round.
Jordon Lennox-Lamb has won his appeal against Richard Bradley being credited with fourth place in the 2008 KF1 British Kart Championship, and the championship points have been re-issued. More details of the tribunal on www.msauk.org and see results pages for revised listings.
TKM Series Round 4- 2008: Fulbeck - Oliver Bourton exclusion from the meeting: Junior 4-stroke driver Oliver Bourton has been excluded from the Fulbeck meeting and will also forfeit a total of points equal to two wins, i.e. 170 points. The penalty imposed is C(d)39A(a), (b) and because of the nature of the deliberate modifications to his engine (c) is also invoked. The engine seal had been removed, modifications made, then replaced. The revised results remain provisional until a 7 day period (when an appeal may be made) has elapsed (to 14 July) then will be re-issued along with revised points tables. The findings of the Technical Commissioner have been reported to the MSA under C(d)34 and he has had his licence suspended for 12 months and to pay £500 costs. Tal-Ko's Alan Turney has praised the vigilance of the scrutineers in spotting the tampered seal.
Tyre Prices for 2009: Please note that the 2009 tyre prices will appear on www.abkc.org.uk when agreed with the tyre suppliers, but the prices are not guaranteed to be the same all year. The ABkC is in negotiation to try and keep the price increase to a minimum, but expect considerable increases due to the cost of raw material, the higher transport costs last year, and especially the massive change in exchange rates.
Please note that Vega tyres for the Rotax classes were subject to an 8% price increase from 12th May 2008 and Bridgestone tyres are subject to a £3.90 increase from 19th August 2008. All tyres delivered to S1 meetings after that date are subject to the new rate, and if necessary the difference in payment must be made to JKH.
Rotax Max SL6 slicks now £95
Rotax Junior and MiniMax SL8 slicks now £95
Rotax wets Vega W2 now £111
All prices ex-vat, surcharge may be applicable for credit card sales. Download the latest Rotax Tyre Order form on the Forms page.
The Super One Series supports the MSA Go Motorsport and Lets Go Karting projects.
Comer Cadet Carburettor 2008: ZipKart with agreement from the MSA have issued this Guidance Note on the use of the Tryton carburettors, including the amendment to regulations to use a modified block and two types of needle and seat. Please check the Zipkart website for any later updates. The MSA issued an amended fiche for the engine / carburettor on 16 July to allow the use of new easier to adjust jet adjustmenet needles, which is on the www.msauk.org website and here. The MSA Statement is:
UPDATED COMER W60 HOMOLOGATION FICHE 2008
"The Comer Cadet W60 Homologation Fiche has been updated due to a modification permitting alternative high and low speed jet adjustment needle screws to ease adjustment of the carburettor which are now permitted to be used on the Tryton ZC001 carburettor. The new jet adjustment needle screws can be exchanged for a pair of the original screws from Zip Kart. This exchange will be available to all owners of Tryton ZC001 carburettors until the 17th October 2008. A copy of the homologation form complete with updates is publicly available on the MSA website for information purposes only. If you require a copy on MSA security paper you will need to place an order with the MSA sales department."
The MSA have issued a statement regarding the future of the Tryton carb which is on their website. The ABkC does not consider all kart meetings are club meetings, refer to Kart Race Yearbook Appendix 4 B.18 (Page 61) which applies to all ABkC clubs and championships.
Chris Brown has won his appeal: KF2 driver Chris Brown has had his appeal against exclusion from the second final at Three Sisters 2008 upheld, and has been re-instated into the results.
Matthew Parry Exclusion Clay Pigeon Rotax Round 1 2008:
Mattthew Parry has lost his appeal against exclusion from the meeting and the results are now declared final.
Guest drivers are welcome in the TKM Series in 2009: Guests will be awarded points in case they wish to carry on in future rounds, but in that case they must register and pay the registration fee. Fuel & Tyre order forms and TKM Series entry forms are on the FORMS page. (to be updated to 2009 forms when available)
Congratulations to all the 2007 Super 1 champions. The S1 organisers thanks all those who have supported the series; competitors, traders, officials, clubs and sponsors. A special 25th anniversary dinner was held at the Hilton Hotel, Coventry on 12th January 2008 where prizes amounting to nearly £80,000 were handed over. Below is a picture of most of the prize winners present at the dinner.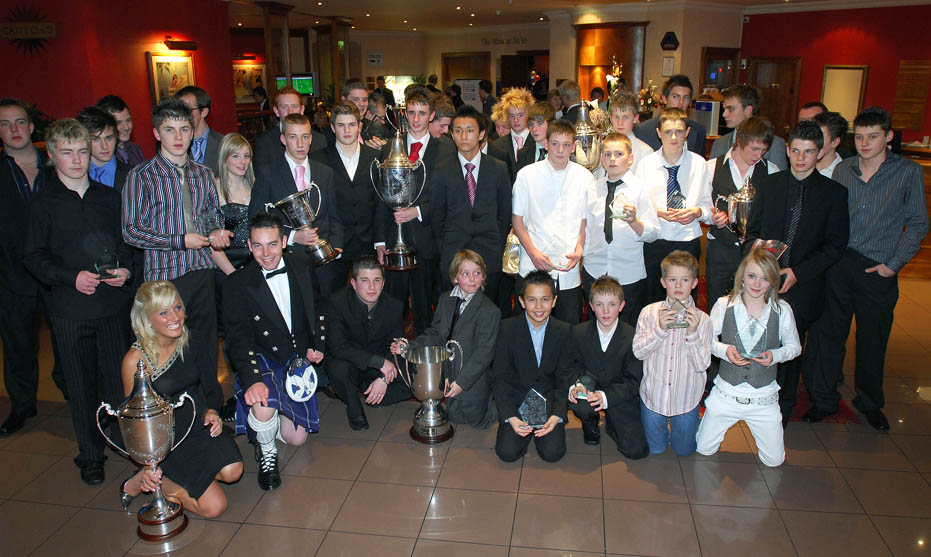 Picture of the 2007 Super One prize-winners attending the 25th anniversary dinnner by www.kartpix.net
Registrations in the 2008 Series are nudging 500:
Confirmation that karting is on the upturn came as the Super One Series released their 2008 registrations, expected to nudge 500 before closing, and already showing a ten per cent increase on 2007. The 'MSA' and 'Rotax' series are the big winners, with only the 'TKM' series slightly down from last year. Registrations will be kept open in that series and in KF1 and Rotax DD2 for another two weeks. The MSA B4/Renault Junior British Kart Championship for KF3 sees a massive endorsement of the new formulae, with 55 registrations, and the ABkC KF2 championship is very healthy at 42 entrants. Only the premier British Championship for KF1 is a little less, whilst the ABkC Cadets is standing at 48. The Rotax class total is well over two hundred. A delighted Neil Hann, promoter of the series, said: "I am extremely pleased to see this year's registrations holding up so well considering the poor state of the economy. It proves once again that we are giving the drivers what they want and it is also encouraging for the sport as a whole. Despite the fact that the pundits had also forecast a drop off from Rotax in favour of the KF classes this has not happened and in fact the Rotax registration is stronger than it was in 2007." Hann advised that now the TKM series has passed 100 entries, all classes with the exception of 100 National and KF2 Heavy will take place and added: "I would like to thank all the drivers for their continued support and hope that you all have a successful and enjoyable 2008 season, which of course is our 26th year of operation."
Registrations as at the end of 9th February 2008:
| | | | | | |
| --- | --- | --- | --- | --- | --- |
| MSA Series | | Rotax Series | | TKM Series* | |
| Cadets | 48 | MiniMax | 38 | Junior TKM | 26 |
| KF3 | 55 | Junior Max | 53 | Extreme | 33 |
| KF2 Heavy or 100 National | None | Senior Max | 77 | Junior 4-stroke | 16 |
| KF2 | 42 | Senior Max 177 | 29 | Senior 4-stroke | 18 |
| KF1 | 17 | DD2 | 16 | Honda Cadet | 18 |
| TOTAL | 162 | | 213 | | 111 |
For all the latest Renault news visit the official Renault UK Motorsport website www.renaultsport.co.uk
| | | |
| --- | --- | --- |
| | | |
| MSA Series Champions 2006 | Rotax Series Champions 2006 | 'TKM Series' Champions 2006 |
Above Images by: TSR Productions
Super One keeps contract for MSA British Junior and Senior short circuit championships, and ABkC direct drive national championships from 2007 onwards: Super One received a huge confidence boost when the MSA confirmed they have opted for stability in the upper echelons of the sport by offering the series a continuation of the Formula A British Kart Championship and JICA Junior Kart Championship for another three years. Promoter Neil Hann said: "We are pleased to be going into our 25th year with these championships on board. I have received many letters of support from sponsors, teams, traders and circuits and want to thank them all for writing." And Neil Hann received more good news when the ABkC voted for a continuation of all the current classes within Super One.
Regulation changes for 2008 and 2005 onwards
The main change for 2008 is that a new champion, or indeed anyone else with a position who can prove he or she cannot be beaten after the penultimate round, is expected to race at the last round. If they then are penalised for a serious technical or driving offence they can count the round as their dropped round. Additionally from 2008 the entry fees for the last three rounds (instead of two as previous) must be lodged by March. There will be a vote in the Rotax series whether or not to have timed qualifying, two heats and two points scoring finals, or keep the three heats and a final system.
The main changes for 2005 onwards are that in Formula A, ICA and JICA, the Super One (and ABkC O Plates) will follow the CIK in restricting drivers to one chassis and two engines for racing. As in the other classes, if a chassis is written off beyond repair, the driver may be able to continue with a spare kart at the discretion of the Chief Scrutineer. Also more points will be given for the timed practice sessions in Rotax (and TKM if sufficient entries to trigger timed qualifying), in effect counting as a fourth heat. The use of the tyre tester has been ratified in the regulations and fuel will be available in 10 litre cans. (ATOL can keep fuel for competitors between events if desired.)