(The UK's premier national karting championship)
You are reading the Super One Series archive website, this is no longer being updated (from 11 May 2010) but is maintained for archive news and results up to 2010. Please visit http://superoneseries.com for the new website.
OLD NEWS ITEMS ARCHIVED:-
The Super One Series promoters and officials would like to congratulate Jenson Button on his fantastic achievement in winning the 2009 F1 World Championship. Jenson Button was the Super One 1991 Cadet Champion, and the 1992 Junior TKM Champion, proving that "S1 to F1 really is a reality" and he will be presenting the prizes in Cadet, KF1, KF2 and KF3 at 3.20pm at The Karting Show within Autosport International, NEC on 16th January, read more. Listen to Jenson Button's interview on the S1 Stage by visiting the News Page
Remember Motors TV programmes schedule on the News page for details of transmission dates to 18M homes (MSA & Rotax), TKM to 16M homes all confirmed by Motors TV management starting 19th April. See news page to see how to get your own copy of your race. (There is also a part of the Shenington KF3 finals on that results page)
Super One MSA & Rotax Series welcomes StingrayRV as new title sponsor - read more
Guest drivers in TKM or Rotax, entry forms on the Forms page.
Current totals of registrations for 2010 now shown on news page. Find the on board TV Camera operating instructions here.
Prospective TKM 4-stroke competitors - a superb rental deal is on offer.
All classes will be televised in 2010, see this information sheet, with more details here, beaming to 17.7 million homes. And Tal-Ko has stepped in to secure the television coverage for the TKM/Honda Cadet series and boost the series, see press release.
S1 Director John Hoyle has issued a statement about the increase in costs for the 2010 series. The 2010 regulations are now available on the MoreInfo page along with a summary of the costs involved.
Cadet tyres for 2010:The Super One Series will drastically reduce the use of new slick dry weather tyres for the Comer and Honda Cadet class in 2010, helping competitors to cut the costs of entering the series. Drivers will have to buy a new set of tyres for Rounds 1, 3 and 5, then have the choice of buying new tyres or using their current tyres for round 7 (Comer Cadet only). read more here.
Registration form for 2010 now on the Forms page. Also MSA has given permission for the KF classes to use 102 octane control fuel in 2010 (also in the KF Winter Series). Format will be as 2009 but the S1 promoters are working hard to secure a TV package for all classes.
2010 Dates revealed, venues now added, see Dates page
KF Winter Series registration, fuel, tyre, Unilogger order forms and regulations are all available on Forms page, please note the series winners earn the ABkC 'O' Plates from the Winter Series, so enter now. Classes are now Super KF, KF2 and KF3, now to 2010 regulations. Current points are on www.sheningtonkrc.co.uk Final points due very soon.
KF3 Drivers - please note the new age limit for 2010: Year of 13th birthday to 31 December of year of 17th birthday. Minimum licence grade Kart National A. Drivers who have not reached their 13th birthday must provide evidence that they have held a National A licence for at least 12 months prior to competing in this class.
Aspiring Super KF drivers, remember the free race tyre offer continues into 2010 and in the KF Winter Series. For more details on the deal available contact Marketing Director John Hoyle on 07774 646784.
Video from all the round one's in 2009: posted on the results pages
John Hoyle (opposite) joins Super One as marketing and promotions director. Reserved parking and programme advertising information, read more about all of this on the news pages.

Super One Series switched to TAG Huer SuperSport Timing in 2009, read more
The Super One Series promoters and officials would like to congratulate Lewis Hamilton on his brilliant success in winning the 2008 F1 World Championship. Lewis Hamilton was the Super One 1995 Cadet Champion (opposite), and the 1997 Junior Yamaha Champion, proving that "S1 to F1 really is a reality"
Super One Series in summary:
The UK's premier karting championship promotes the following national kart championships in three parallel series:-
THE 'MSA' SERIES, sponsored by StingrayRV
B4/RENAULT British Championships for KF1
Junior MSA British Championship for KF3
&
The ABkC National Championships for
Formula Cadet (Comer), KF2 - more info - and a video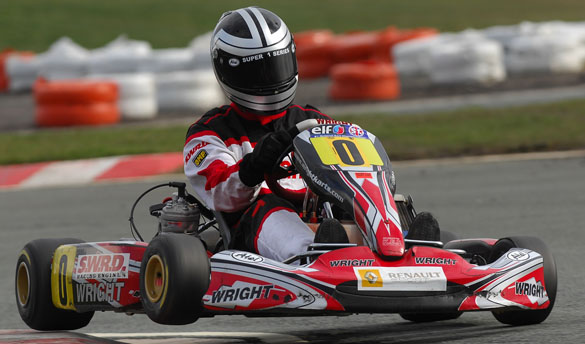 THE 'TKM' SERIES
The ABkC National Championships for
Formula TKM Extreme, Formula Junior TKM, TKM Junior and Senior 4-stroke plus from 2006, Honda Cadet - more info
THE 'ROTAX' SERIES sponsored by StingRayRV

The ABkC National Championships for
Rotax Senior Max, Rotax Junior Max, Rotax MiniMax, Max/177 - more info
(Use the 'Click Here' button below for latest results)