(See also www.karting.co.uk/Results/ for Super 1 Results)
(Provisional Points tables will follow the full results)
ROTAX ROUND 2 ROWRAH: 17/18.04.10
MiniMax: Timed Qualifying, Heat 1, Heat 2, Heat 3, Heat 4,  Final 1 , Final 2, Points Table
Max: Timed Qualifying, Heat 1, Heat 2, Heat 3,   Heat 4, Repechage, Final 1, Final 2, Points Table
Junior Max: Timed Qualifying,  Heat 1, Heat 2, Heat 3,  Heat 4, Repechage,  Final 1, Final 2, Points Table
Max 177: Timed Qualifying, Heat 1, Heat 2,  Final 1,  Final 2, Points Table
All points are provisional
Newsletter (download if required) and Race Report: 
The second round of the Super One Rotax, ABkC National Championships and UK's Max Challenge qualifiers threw up a completely different set of winners, except in Max 177 where Lucas Orrock and Stephen Cobb shared the wins. Tom Fawcett dominated senior Max with double wins, whilst in Junior Max Andy King took the first but was thwarted in the second letting Sean Babington slip by. Harry Webb came up from third to beat first final winner Sam Ward in MiniMax.
Supported by StingrayRV the series went north to the Cumbrian idyll of Rowrah in England's Lake District. The circuit is notable for its tight hairpins, a fearsome blind uphill turn into the chicane, and a fast downhill run into a ninety right hander.
Former World Champion Mike Wilson (pictured left) was on hand to mentor the Canadian driver Lance Stroll.
ABkC MiniMax
After topping timed qualifying, Zubair Houque would have troublesome finals, as would first round winner George Russell, whereas Harry Webb split the pair at this stage and kept his focus throughout. Sam Ward, Oliver Myers, Harry Webb and Ashley England all popped in heat wins to see Ward on pole for the first final.
After two red flagged aborted starts, the race finally got underway without Lemuel Pay who suffered a hand injury. Ward led a threesome with Myers under great pressure from Webb after England succumbed and fell to sixth. Jack Aitken had an impressive run to fourth ahead of Bobby Thompson.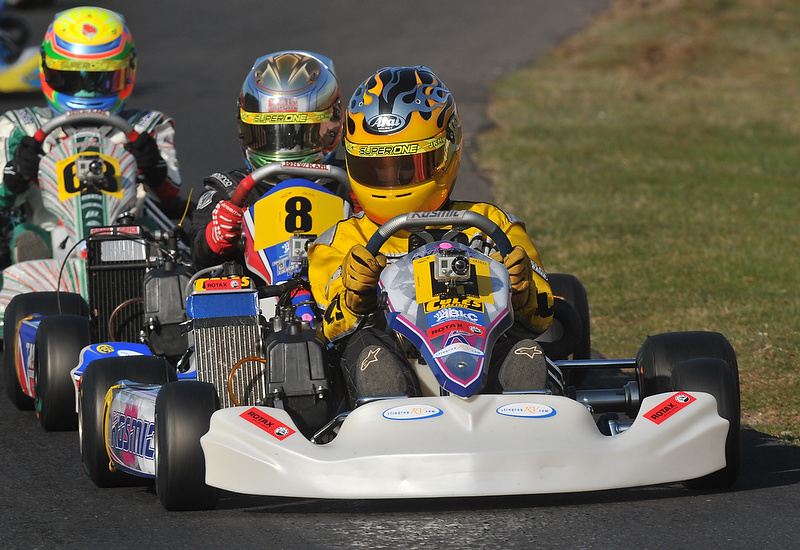 In the second final, Ward and Webb energetically traded the lead whilst Russell couldn't sustain his third place and fell to twelfth. Samuel Oram-Jones crashed out whilst Webb had his hands full defending from Myers until Aitken stormed past both. Aitken challenged Ward at the Pits corner, impeding them both enough for Webb to nip through and take the win from a distant Ward. Aitken fell to eight, behind the huge third place battle, Ryan Norris just ahead of Thompson and Myers.
MiniMax Final 1
1 Sam Ward Kosmic
2 Oliver Myers Tonykart
3 Harry Webb Tonykart
Final 2
1 Webb
2 Ward
3 Ryan Norris Tonykart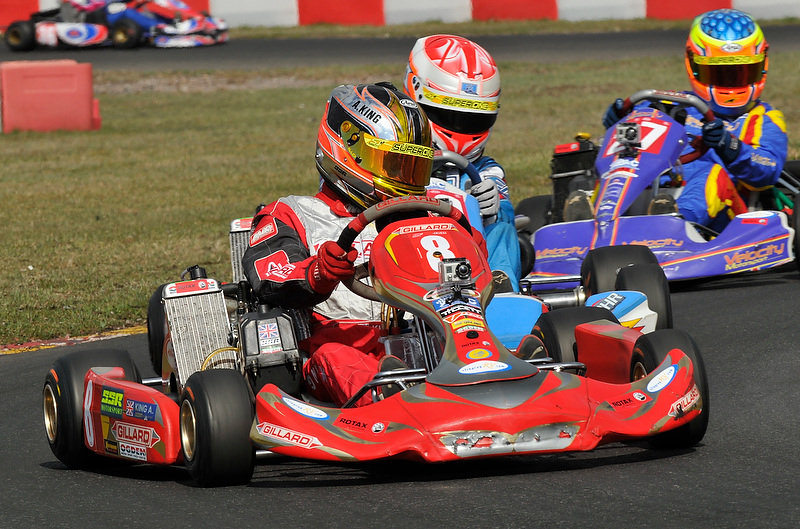 ABkC Rotax Junior Max
Andy King was right on form, snatching qualifying pole by a hundredth from Oliver Hodgson and Fraser O'Brien. King and Ash Hand took the Saturday heats, Jack Marshall and Matt Parry on Sunday. These four sustained their form lining up on the first two rows of the first final, King on pole but immediately challenged by Parry and falling to fourth. Marshall was next to star, with King challenging, as Hand dropped back to sixth. Nathan Harrison, Parry and Sean Babington had lost touch with the leaders, but Harrison retired as Parry took third. King was back ahead when the race was red-flagged to sort out a big crash between Oliver Hodgson, Jonathan Davis and James Singleton.
King had it all covered at the start of the second final, chased by Parry until he lost his front fairing and had to pit leaving Hand second. Marshall and Babington skipped by Hand, and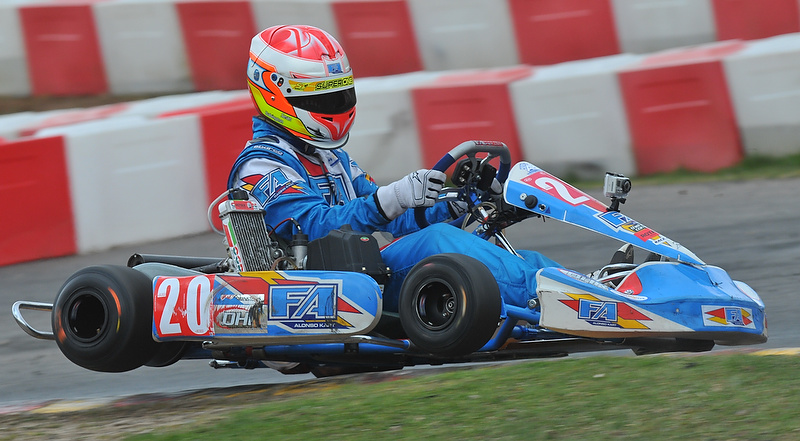 chased down the gap both passing King. Marshall had a lap in the lead before Babington took up the running then it all became rather controversial. King dived into the lead, putting Babington third, then Marshall challenged King at the penultimate corner taking them both wide and allowing Babington to sail past for the win.
Junior Max Final 1 1 Andy King Gillard 2 Jack Marshall Tonykart 3 Matthew Parry Kosmic Final 2 1 Sean Babington Alonso 2 Marshall 3 King
ABkC Rotax Max
Tom Fawcett set down his marker in timed qualifying, beating Ross Wylie, Ed Brand, Jake Ball and Alex Magee. Reigning champion Michael Simpson was just ahead of the Japanese rookie Ren Nagabuchi, Daniel Graham and Dan Holland. But trouble was ahead, after wins by Fawcett and Brand on Saturday, Fawcett again and Jake Ball on Sunday, Simpson was excluded for a slipping clutch detected by the on-board individual Unilogger. This technical non-compliance meant he could take no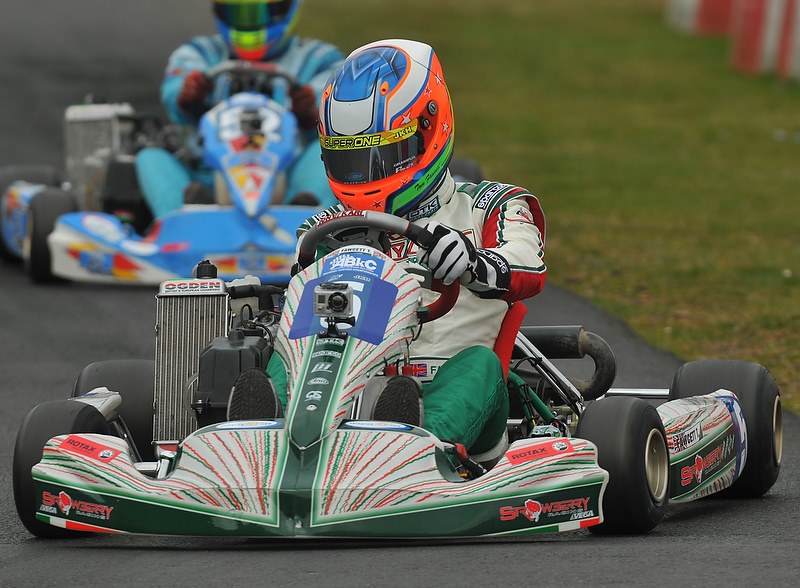 further part in the meeting and will have to count his zero score at the end of the year.
Ball briefly led the first final from Fawcett whilst Holland and Graham came off at the first hairpin, and Nagabuchi at the second. Recovering from an off in the second heat, and being forced into the repechage which he won, John Stewart stormed through to tenth. Fawcett finally established his lead on lap five, with Brand a safe third. The various incidents had promoted Lewis Brown, Jack Dex and Will Hunter, the latter two having swapped places half way through.
Fawcett dominated the second final, eking out a two second win over Ball, who threw off a challenge from Jack Dex. Stewart worked his way up to third, with Graham recovering ahead of Wylie and Holland up to seventh from the back, taking fastest lap on the way. Brand went out on lap three. Senior Rotax Max Final 1 1 Tom Fawcett Tonykart 2 Jake Ball Gillard 3 Edward Brand Birel Final 2 1 Fawcett 2 Ball 3 John Stewart Tonykart
ABkC Rotax Max 177
Qualifying went well for David Griffiths, taking fastest by a whisker from Lucas Orrock and Luke Woodland. Orrock went onto win both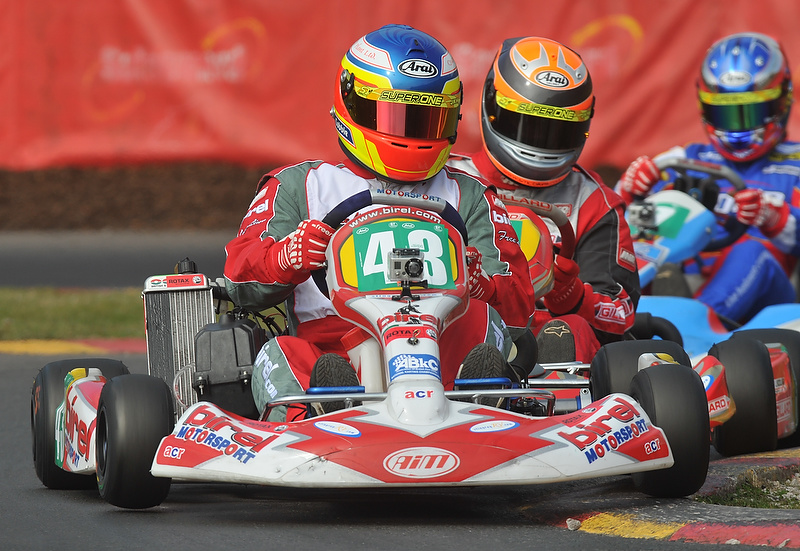 heats, but Griffiths pipped him at the start of the first final with Cobb very close and Tim Penton coming up fast. Cobb's challenge on second didn't come off, and he fell to fourth, giving Orrock the incentive to relieve Griffiths of the lead at mid-distance. Penton thus inherited third. Griffiths briefly had the lead at the start of the second final, but Orrock grabbed it back. Cobb was on a charge, soon taking both of them. Shadowing Cobb, Griffiths made his final challenge at the last corner only to find the door firmly shut in his face. Max 177 Final 1 1 Lucas Orrock Kosmic 2 David Griffiths GMS X30 3 Tim Penton Kosmic Final 2 1 Stephen Cobb Birel 2 Griffiths 3 Orrock
The next Rotax round is on 8/9 May at Whilton Mill. Full results and championship points on www.s1series.co.uk
Pictures courtesy and copyright of www.kartpix.net (email any requests)