(See also www.karting.co.uk/Results/ for Super 1 Results)
(Provisional Points tables will follow the full results)
ROTAX ROUND 1 PF INTERNATIONAL: 20/21.03.10
MiniMax: Timed Qualifying, Heat 1, Heat 2, Heat 3, Heat 4, Repechage,  Final 1 , Final 2, Points Table
Max: Timed Qualifying, Heat 1, Heat 2, Heat 3,   Heat 4, Repechage, Final 1, Final 2, Points Table
Junior Max: Timed Qualifying,  Heat 1, Heat 2, Heat 3,  Heat 4, Repechage,  Final 1, Final 2, Points Table
Max 177: Timed Qualifying, Heat 1, Heat 2,  Final 1,  Final 2, Points Table
All points are provisional
Newsletter and Race Report: PF International Rotax ABkC Championships Round 1 & 2: 20/21March

The StingrayRV Super One Series Rotax ABkC National Championship opener took place at Britainís best appointed circuit, PF International. 168 out of the 210 drivers who have registered for the series came along so repechage, or last chance races, were needed in three out of the four classes. Superb racing was on offer, all captured by PSC Productionsí TV cameras. Showers of rain mixed up the order in some of the timed qualifying during Saturday, but Sunday was dry all day.
Michael Simpson just pipped team-mate and first final senior Max winner Edward Brand to the second finalís top spot after a disadvantaged timed qualifying session and heat DNF. Matthew Parry and George Russell were invincible in Junior Max and MiniMax respectively. Lucas Orrock got his Max 177 season off to a great start with two wins. Each driver has timed qualifying, two heats, and if they qualify through, two points scoring finals. New for this year are Rookie Trophies, for the best series first timers.
ABkC MiniMax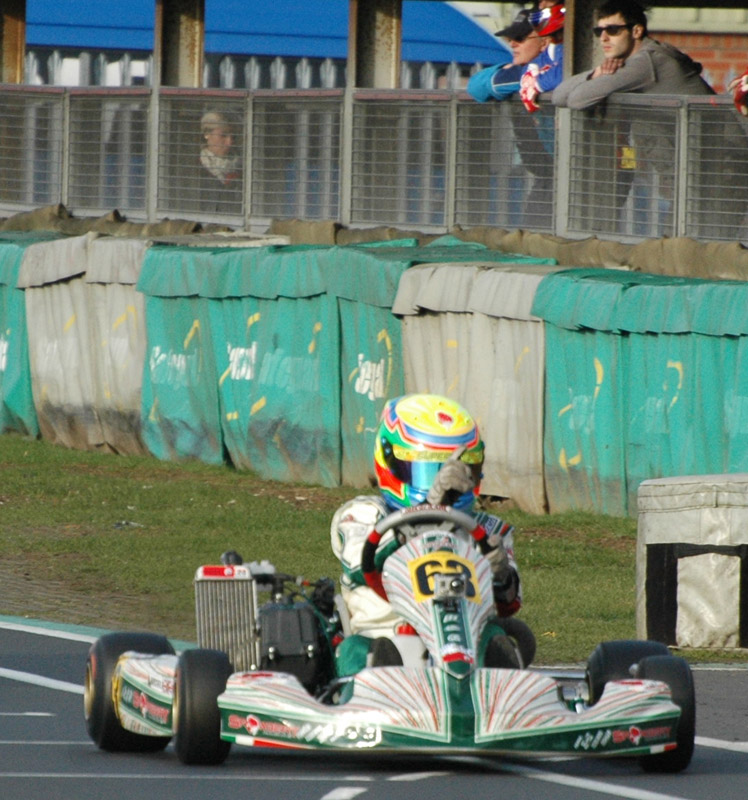 Oliver Myers had the edge in timed qualifying over Bobby Thompson and Josh White, and he kept his advantage through to claim pole for the first final. But George Russell was moments too late and missed TQ completely, being forced to storm through from the back of the heats. Harry Webb joined Myers on the front row, Russell and Thompson behind. Webb lost out a little at the start, but soon joined the battling lead trio, where Sam Ward, Russell and Myers were gaily trading the lead. Eventually Russell made a break for the win, Ward finally shaking clear of Webb and Adam Glear pipping Myers for fourth.
In the second final, Webb hit the front whilst Russell was mired in fourth and fifth. Myers then led briefly before Russell vaulted to the front, and extended a healthy seven second lead. In an acrimonious last couple of laps, Ryan Norris was pushed wide, then further contact between him, Sam Ward and Harry Webb allowed Glear and Myers onto the podium, with a surprised Harri Taylor claiming fourth. Ryan Norris made fifth, whilst Webb and Ward were shuffled further back.
MiniMax Final 1: 1 George Russell Tonykart; 2 Sam Ward Kosmic; 3 Harry Webb Tonykart; 4 Adam Glear Alonso; 5 Oliver Myers Tonykart; 6 Matthew Arnold Tonykart. Final 2: 1 Russell; 2 Glear; 3 Myers; 4 Harri Taylor Tonykart; 5 Ryan Norris Tonykart; 6 Samuel Oram-Jones Tonykart
ABkC Rotax Junior Max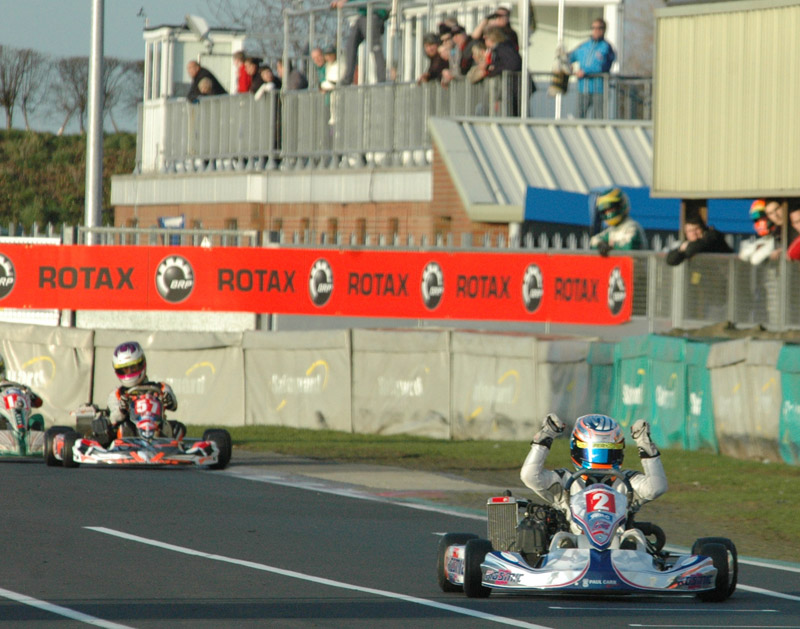 Although James Singleton topped timed qualifying over Matt Parry and Harry Crawley, he had mixed fortunes in the heats and finals. Parry had no such troubles earning pole over Crawley, Oliver Hodgson and Josh Parker. Surviving a brief challenge from Hodgson, Parry roared to victory whilst Parker recovered from a fall to seventh at the start, to storm up to second with Andy King following him through.
Parry had it a little tougher in Final 2, unable to shake of series rookie Parker for many of the 20 lap race. Eventually Parker had to concentrate on fending off Jack Marshall. Crawley had been pushed wide at the first hairpin but managed to work his way back, finally beating King to fourth.
Junior Max Final 1: 1 Matthew Parry Kosmic; 2 Josh Parker Tonykart; 3 Andy King Gillard; 4 Sean Babington Alonso; 5 Jack Marshall Tonykart; 6 Harry Crawley Alonso. Final 2: 1 Parry; 2 Parker; 3 Marshall; 4 Crawley; 5 King; 6 Charlie Streather CRG
ABkC Rotax Max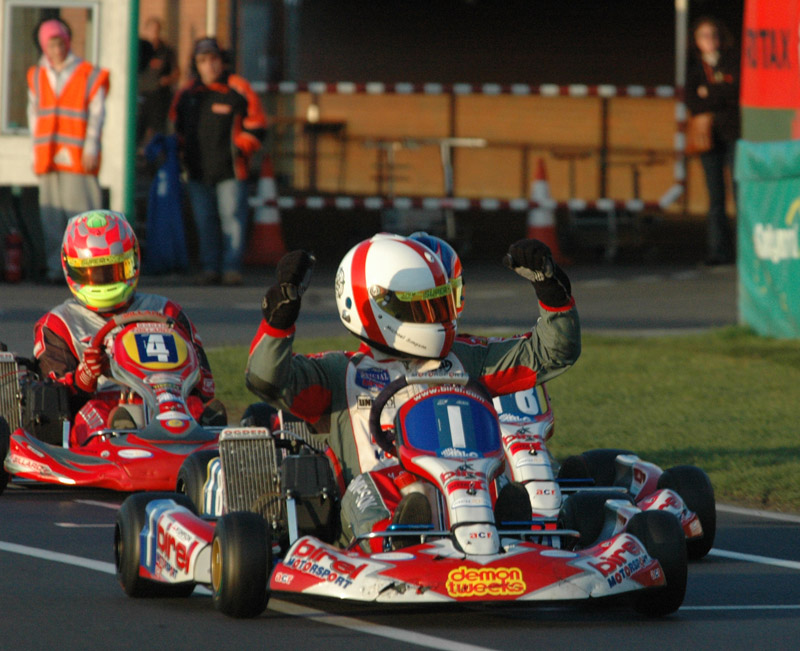 Defending champion Michael Simpson had a tough start to the weekend when he was one of several who chose to go out on slicks in a wet timed qualifying session, then broke his chain in a heat. James Greenway had a substantial advantage over Tom Fawcett, Michael Epps and John Stewart in the TQ, whilst Ed Brand just pipped Japanese driver Ren Nagabuchi. But the latter suffered through the heats and failed to make the finals. Brand had no such trouble, taking pole from Stewart, Greenway and Will Hunter. Stewart found himself the outermost of three karts at the start, forced off the road, whilst Greenway and Daniel Graham were brief leaders until Brand settled into the spot. Simpson had made stunning early progress and was soon passing Tom Wrigley and Dan Holland to start the chase of his team-mate Brand, not quite having enough time to attempt a pass.
In the second final Daniel Graham and Tom Fawcett were spun round at the first corner, whilst Ross Wylie was put out at the second. Simpson just survived whilst Brand had the lead over Holland and Hunter. The recovering Simpson took Holland at the second hairpin, then repeated the move on Brand a few laps later for the win, but was unable to shake off his pursuers.
Senior Rotax Max Final 1: 1 Edward Brand Birel; 2 Michael Simpson Birel; 3 Dan Holland Gillard; 4 Tom Fawcett Tonykart; 5 James Greenway Tonykart; 6 Michael Epps Tonykart. Final 2: 1 Simpson; 2 Brand; 3 Holland; 4 Epps; 5 Danny Russell Tonykart; 6 Billy Albone RK
ABkC Rotax Max 177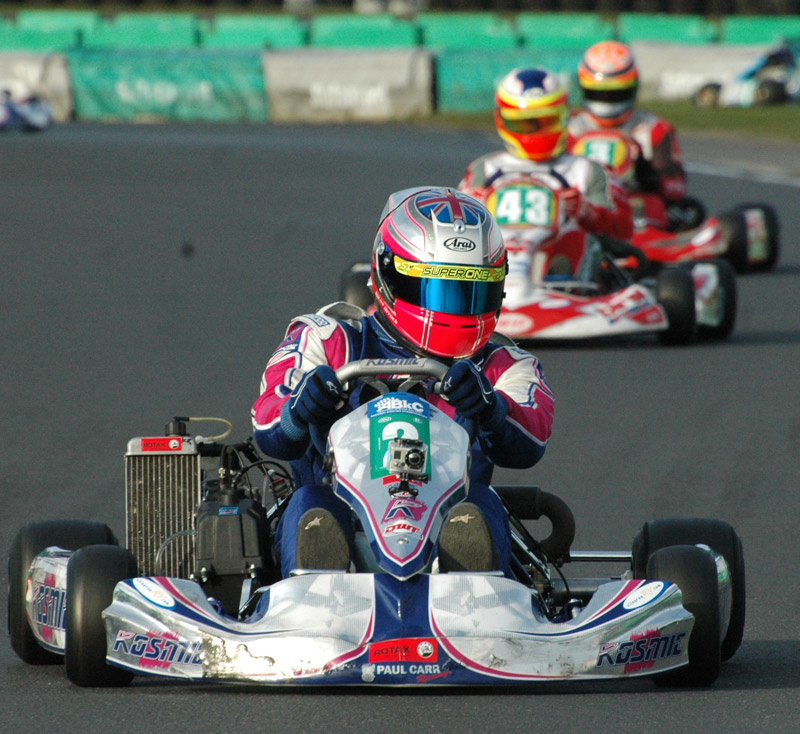 Qualifying first set Stephen Cobb up for the first heat win, with David Griffiths taking the other. In the first final, Griffiths drafted past Cobb at the start of the second lap with Lucas Orrock following, setting up a thrilling three way dice for honours. Cobb regained the lead, but when he looked back he found Orrock on his way past, this time to hold on until the finish.
Orrock escaped for another win in the second final whilst Cobb and Luke Woodland battled over second. Griffiths had been put out on the second corner.
Max 177 Final 1: 1 Lucas Orrock Kosmic; 2 Stephen Cobb Birel; 3 David Griffiths GMS X30; 4 Tom Pyttlik Alonso; 5 Colin Davis Redspeed; 6 Robert Campbell Birel. Final 2: 1 Orrock; 2 Cobb; 3 Luke Woodland Gillard; 4 Pyttlik; 5 Tim Penton Kosmic; 6 Davis
Trent Tales
Japanese newcomer to the series, Ren Nagabuchi from Tokyo made an excellent first impression by qualifying sixth fastest. But he suffered in the rough and tough of the heats, and just failed to make the finals. The 16 year old, who drives for Strawberry Racing, will be domiciled in Sheffield.
Assistant Starter Jonathan Bradley was lucky to escape serious injury when an errant kart came out of line to throw him up in the air. He survived with significant bruising.
George Williams lost sixth in Junior Max when excluded because his seal numbers did not match his scrutineering card. Several drivers were hit with £100 fines for abusive behaviour. MiniMax driver Jack Lang was excluded from the repechage and the whole meeting for excessive clutch slip, detected by the Unilogger. Junior George Cosgrove and senior John Stewart were excluded for driving offences.
Unfortunately the GoProHD on board cameras for all competitors were not delivered in time, for which the organisers apologised as outside their control. But enough were gathered together to add to what will become some stunning TV coverage, going out first on MotorsTV on 5th April at 2010 hours to some 18M homes.
The next Rotax round is on 8/9 May at Whilton Mill. Full results and championship points on www.s1series.co.uk
Pictures courtesy and copyright of TSR Productions (email any requests)