(See also www.karting.co.uk/Results/ for Super 1 Results)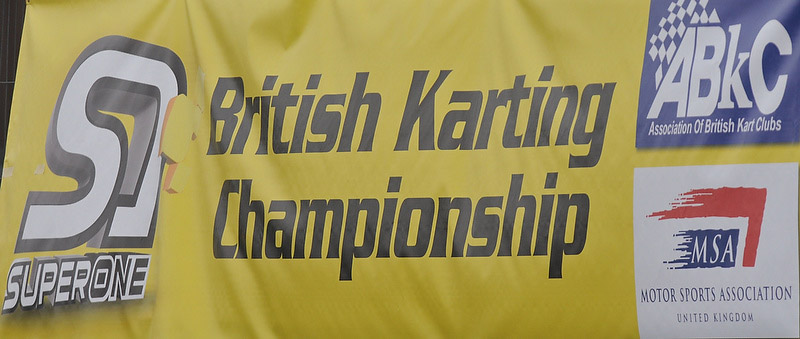 STINGRAYRV SUPER ONE SERIES MSA ROUND 2 24/25.04.10 at Larkhall, Scotland

Super One Series – Rounds 3 & 4 Larkhall 25th April 2010
Super KF
Mark Litchfield stamped his authority on the StingrayRV MSA British Kart Championship with two dominant wins at the Scottish circuit to complete his unbroken 2010 run. Although Litchfield was just pipped to top spot in the timed qualifying by Jordan Chamberlain, and pushed hard in the first heat by Elliot Burton and Chamberlain, the latter two fell back in the second heat as Litchfield escaped by over three seconds. Jonathan Walker and Tom Grice were the beneficiaries. As Litchfield sped clear in the first final, Walker and Chamberlain traded second, until being leapfrogged by Burton for a comfortable runner-up spot. The veteran 1996/7 champion Bobby Game was having one of his best comeback meetings, storming up to split Chamberlain and Walker for fourth. Tom Grice suffered a mechanical failure and retired but a great start in the second final carried him swiftly up to fifth place, from where he mounted a mid-race attack on Walker and capitalised on Chamberlain's loss of pace to finish a fine third. Burton fell back behind Walker at the start, but after a brief exchange of position, he moved up to relieve Chamberlain of second place, the latter eventually falling to fifth. Meanwhile Litchfield left his pursuers far behind, the gap over three seconds at the flag and a perfect score so far, with Burton moving up to joint second matching Walker's points.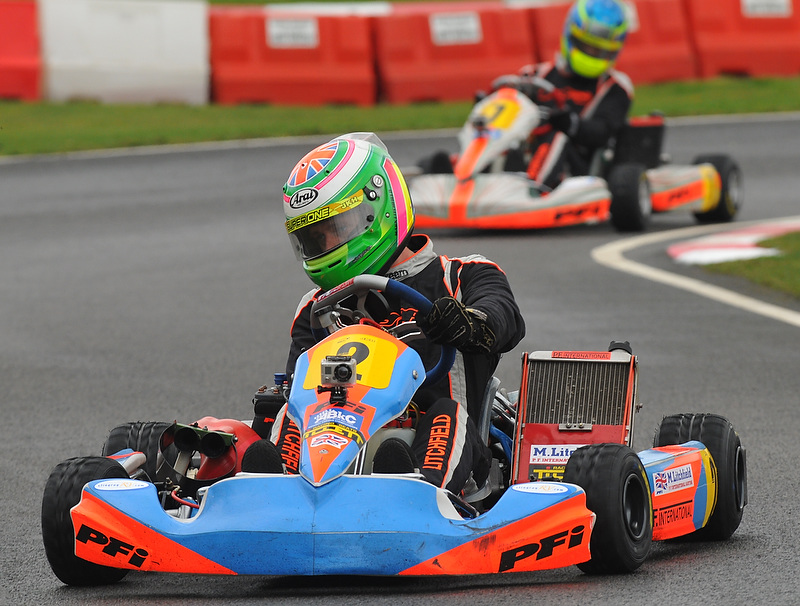 Results Final 1: 1 Mark Litchfield Alonso/Maxter
2 Elliot Burton Maranello/Maxter
3 Jordan Chamberlain Tonykart/TM
4 Bobby Game Tonykart/Maxter
5 Jonathan Walker Alonso/TM
6 Denis Gorman Energy/Maxter
Final 2: 1 Litchfield
2 Burton
3 Tom Grice Maranello/Maxter
4 Walker
5 Chamberlain
6 Mathew Hogarth Intrepid/Maxter
Championship Points (Provisional): 1 Mark Litchfield 200 2 Jonathan Walker 183 3 Elliot Burton 183 4 Tom Grice 170 5 James Godbehere 170 6 Bobby Game 166
KF3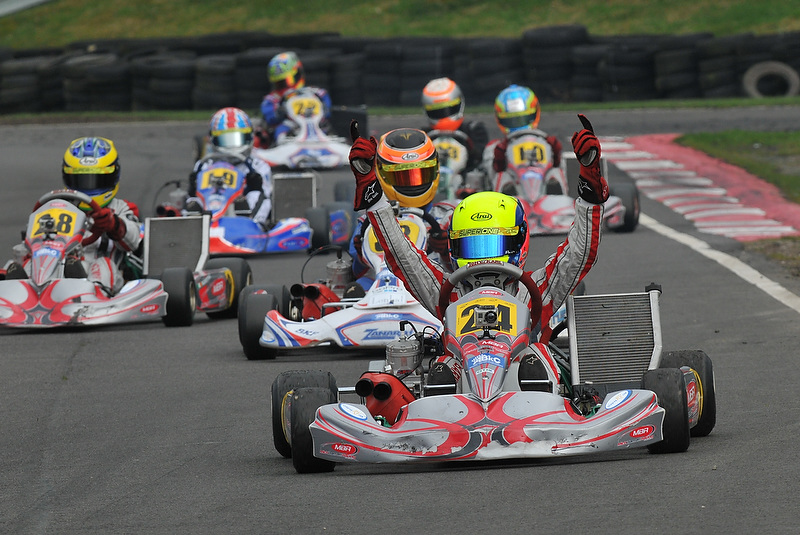 Ben Barnicoat became the only driver so far this season able to interrupt Jake Dennis' winning run in the StingrayRV MSA Junior British Championship, his pace showing as early as timed qualifying where he missed knocking Dennis of the top by a mere hundredth of a second. Dennis went onto win both his heats, Barnicoat well out ahead in the other. A fiery series of early laps in the first final dropped Jake Dalton fall from first to last, with Barnicoat taking up the running until Dennis managed to regain command at one third distance. Roy Johnson came through unscathed for third, whilst Charlie Eastwood reached fourth before being demoted by Daniel Vaughan, the latter himself succumbing to Sennan Fielding and Matthew Graham. Fielding had stormed up to fourth from grid 21 after being excluded from a heat for a driving offence. Roy Johnson starred in the early stages of the second final, before falling down the order firstly to third, then succumbing to a robust challenge by Fielding on the last lap. Dennis fell to fourth at the start, but soon worked his way back to the front, leading for the next fourteen laps. Dennis surely didn't expect the diminutive Barnicoat to come flying up the back straight for a direct challenge, arrowing through to the lead and mounting a strong defence over the remaining couple of laps for his first MSA championship win.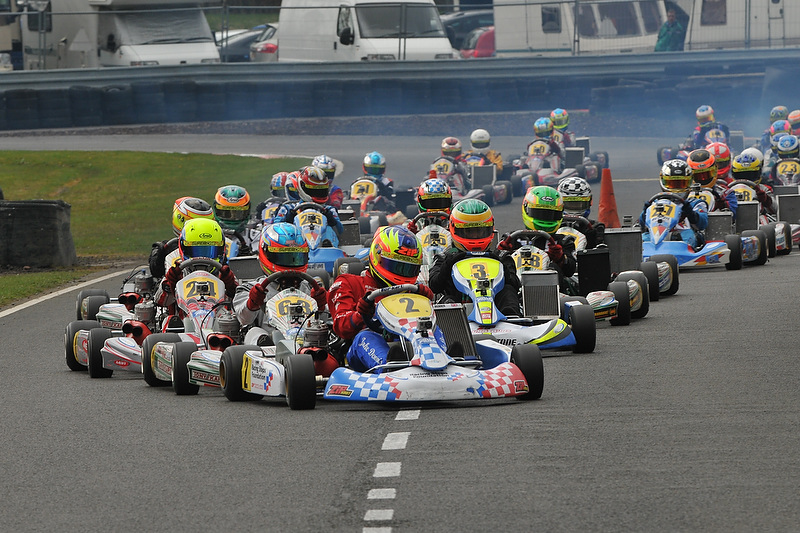 Results Final 1:
1 Jake Dennis Topkart/IAME
2 Ben Barnicoat Tonykart/TM
3 Roy Johnson Tonykart/TM
4 Sennan Fielding Topkart/TBA
5 Matthew Graham Tonykart/TM
6 Daniel Vaughan Tonykart/TM
Final 2
1 Barnicoat
2 Dennis
3 Fielding
4 Johnson
5 Harry Woodhead Energy/TM
6 Charlie Eastwood Birel/VKR
Championship Points (Provisional) 1 Jake Dennis 198 2 Sennan Fielding 182 3 Ben Barnicoat 178 4 Roy Johnson 167 5 Jake Dalton 160 6 Charlie Eastwood 155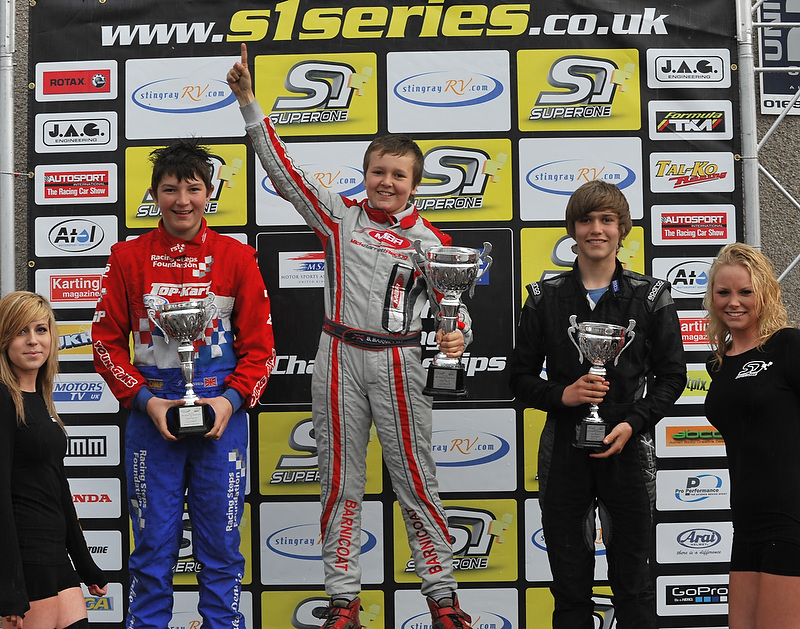 ABkC KF2
Callum Bowyer and Jordan King looked possibilities to knock Jacob Nortoft off his perch, King topping timed qualifying whilst Bowyer languished in eleventh, but then taking the Sunday heat. But it was business as usual for the Dane in the first final, as he powered away from Oscar King and Rob Foster, whilst Jordan King was an early retirement. King swapped places with Foster twice, before Bowyer split them with a few laps to run. Nortoft was again the class act in the second final, unbeatable so far this year, whilst Jake Lloyd ran much of the first half in second. Oscar King regrouped to relieve him of runner-up spot, whilst in the mid race reshuffling Bowyer fell to sixth. Steven Napier, who had suffered a heat exclusion, capitalised on his sixth in the first final to catapult himself up to third, with Bowyer nicking fourth from Lloyd on the last lap. Jordan King could only manage seventh from the back.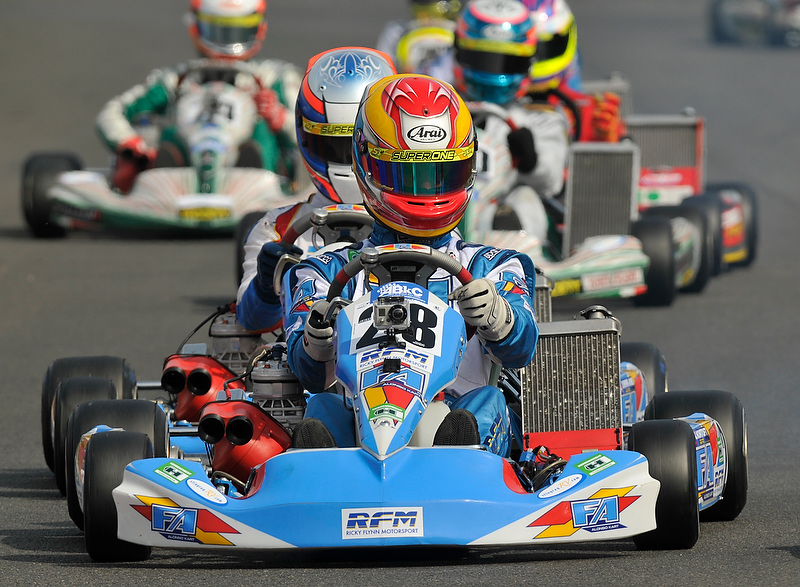 Results Final 1
1 Jacob Nortoft Alonso/Vortex
2 Oscar King Tonykart/Maxter
3 Callum Bowyer Tonykart/TM
4 Rob Foster Maranello/Maxter
5 Jake Lloyd Tonykart/TM
6 Steven Napier Tonykart/TM
Final 2
1 Nortoft
2 King
3 Napier
4 Bowyer
5 Lloyd
6 Alex Walker Tonykart/TM
Championship Points (Provisional) 1 Jacob Nortoft 200 2 Steven Napier 184 3 Callum Bowyer 182 4 Alex Walker 169 5 Oscar King 169 6 Jake Lloyd 166
ABkC Comer Cadet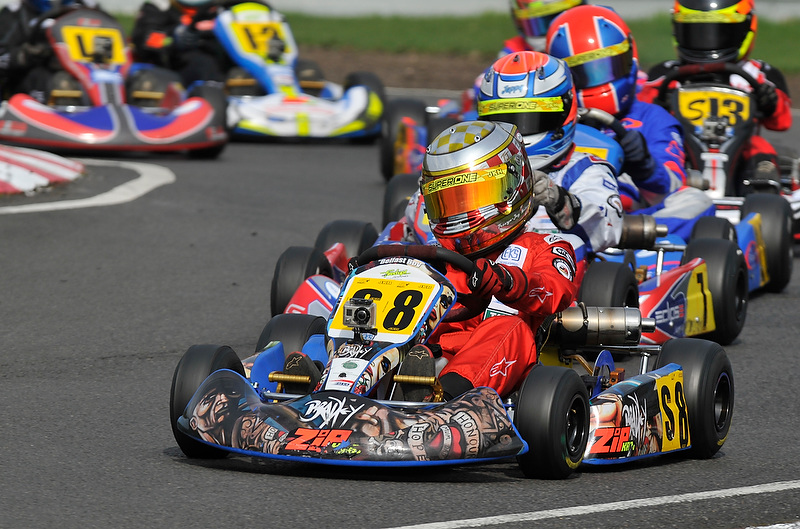 So competitive is this class that eventual first final winner Max Vaughan was mired in thirteenth after timed qualifying, which had Lando Norris at the top of the table, and half a second blanketing twenty-one drivers. Connor Jupp won both Saturday heats, but Vaughan had sorted out his kart to win the Sunday heat. Jupp threw away the lead with a grassy trip on the first lap of final one, letting Callum Ilott take up the running with Tom Harvey just behind, but he soon recovered to the front once again. Norris was trading third with Ilott, but all the time Vaughan was picking off kart after kart from his grid eight start, and by the last lap was lying in a handy third place. Harvey had been tracking Jupp, timing his move to lead on the last lap, but Jupp elbowed him aside at the last corner. That misdemeanour earned Jupp an exclusion, gifting the win to Vaughan, with Harvey recovering for sixth, Ilott second and Norris third. Jupp lost his appeal and had to start at the back of the second final, eventually reaching seventh. An eight kart train provided plenty of excitement in the second final, with no-one able to make a break, the lead swapping about between Trevyn-Jay Nelson, Norris, Vaughan and Harvey. Over the last few laps it was a contest between Nelson and Harvey, but as Nelson defended, Harvey left the door open for James Kellett to snatch second on the last lap – he had spend most of the race at the tail-end of the group. Dean McDonald continued his recovery from a lowly first final starting position, and crept into fourth.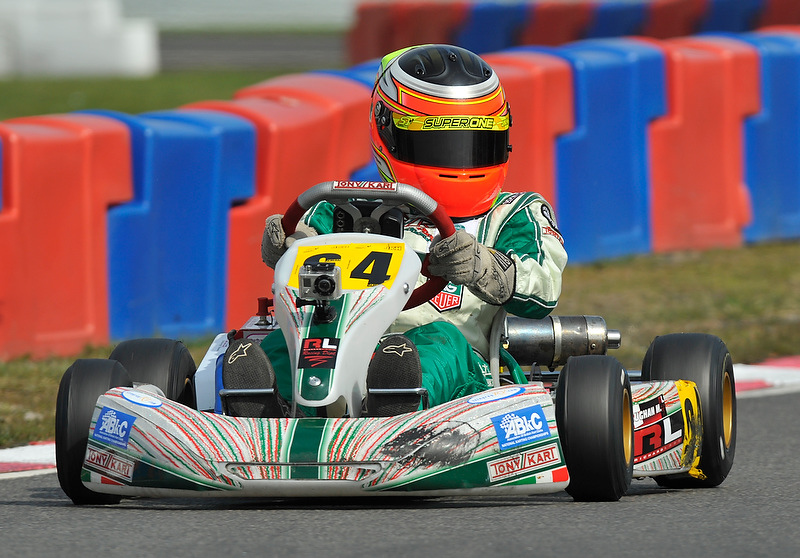 Results Final 1
1 Max Vaughan Tonykart
2 Callum Ilott Wright
3 Lando Norris Tonykart
4 James Kellett Zip
5 Trevyn-Jay Nelson Zip
6 Tom Harvey Zip
Final 2
1 Nelson
2 Kellett
3 Harvey
4 Dean MacDonald Zip
5 Norris
6 Nathan Aston Zip
Championship Points (Provisional) 1 Max Vaughan 187 2 Tom Harvey 184 3 Lando Norris 176 4 Trevyn-Jay Nelson 176 5 Nathan Aston 165 6 Callum Illott 161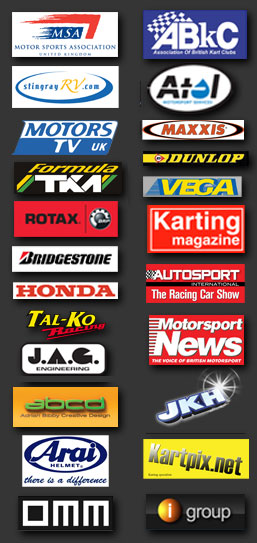 SKF:Timed Qualifying, Heat 1, Heat 2, Final 1, Final 2
KF2: Timed Qualifying, Heat 1, Heat 2, Final 1, Final 2
KF3: Timed Qual,  Heat 1, Heat 2, Heat 3, Final 1, Final 2
Cadet: Timed Qualifying, Heat 1, Heat 2, Heat 3, Repechage, Final 1, Final 2
Provisional Points Tables: 
Points Super KF
Points KF2
Points KF3.
Points Table for Cadet
Go here for the MSA Championship's newsletter
Picture Gallery images courtesy of www.kartpix.net 
Next round

    Round 3 of the championship will be held at Nutts Corner on 28-30 May