(See also www.karting.co.uk/Results/ for Super 1 Results)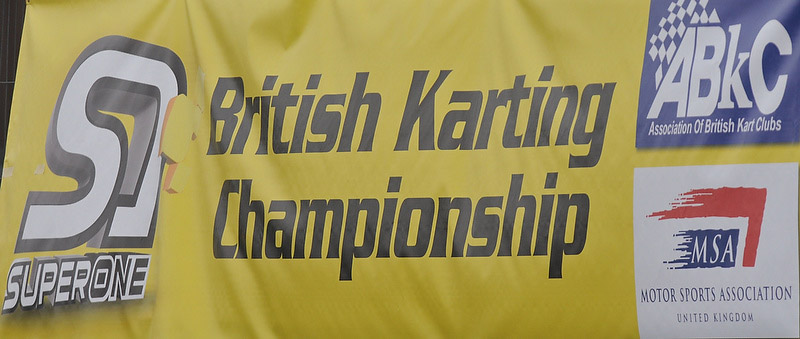 STINGRAYRV SUPER ONE SERIES MSA ROUND 1 13/14.03.10 AT SHENINGTON

Super KF – MSA British Kart Championship
Four times champion Mark Litchfield got his MSA British title bid off to a winning start at Shenington, Oxfordshire.  
The current vice-champion, driving for the PF International racing team, was aided when his closest rival through the heats, 
Jordan Chamberlain, suffered two non-finishes.  
This year the British senior kart championship has adopted the CIK/FIA Super KF rules, giving competitors even more freedom in tuning, 
including being able to experiment with different exhaust pipes.  Also the KF classes have been granted MSA permission to use 
102 octane fuel.  In further innovations, the Super One Series has mandated that all competitors must fit an on-board video camera, 
to be used both for judicial purposes, and for possible inclusion in the new television series, airing monthly on Motors TV.  
The series also sports a new title sponsor, StingrayRV, the American motorhome people.   

Starting sixth in the first of the two points scoring finals after a carburettor issue in a heat, Litchfield closed rapidly on race leader Chamberlain, 
who had earlier exchanged lead positions twice with Tom Grice.  As Litchfield narrowed the gap, Chamberlain suddenly slowed 
when a part of his engine flew off.  "He was unscrewing the adjuster on the power valve, and it fell out of his hand," observed Litchfield later.  
With Chamberlain side-lined, Litchfield cruised to victory, closed slightly towards the end by Jonathan Walker, after he'd passed Elliot Burton.  
After losing a further place to James Godbehere on the last lap, Burton exclaimed: "I just got lunged massively at the Wilkins hairpin, 
but I've definitely got the pace."  

In the second final, Chamberlain reached sixth from the back, when a total engine failure forced retirement once more for the reigning ABkC KF2 champion.  
It was later discovered that due to a mis-communication within his team, that the wrong engine sprocket had been fitted, greatly hampering his speed.  
With no close threat, Litchfield stormed away for a lights to flag victory, well over a second up by the chequer.  James Godbehere out-witted Walker at the start, 
and it took Walker a couple of laps to regain second by which time Litchfield was too far ahead.  After that Walker had his hands full defending his place from Godbehere, 
whilst Elliot Burton closed on Tom Grice, briefly managing to relieve him of fourth, but having to settle for fifth.  Litchfield observed: 
"Usually round one has been a disaster for me in previous years, so with two wins it can't be any better than this."

Results Final 1
1 Mark Litchfield Alonso/Maxter
2 Jonathan Walker Alonso/TM
3 James Godbehere Maranello/Maxter
4 Elliot Burton Tonykart/Maxter
5 Tom Grice Maranello/Maxter
6 Bobby Game Tonykart/Maxter

Final 2
1 Litchfield
2 Walker
3 Godbehere
4 Grice
5 Burton
6 Raymie Eastwood Birel/VKR

Championship Points (Provisional)
1 Mark Litchfield 100
2 Jonathan Walker 96
3 James Godbehere 92
4 Elliot Burton 87
5 Tom Grice 87
 6 Raymie Eastwood 83


KF3 – MSA Junior British Kart Championship
Jake Dennis took first blood in timed qualifying, a fraction faster than Jake Dalton and Ben Barnicoat, but the current vice-champion 
had to give best to Dalton in the first heat.  Dalton went onto win the second heat as well, and Dennis the third and so Dalton took 
pole position for the first points scoring final.  Front runner Roy Johnson had a setback when excluded for ignoring a repeated black flag 
in the third heat and would start near the back.  The race settled into a tense battle between Dalton, the initial leader, 
and Dennis, as they pulled clear of the fights behind.  Dennis tracked Dalton for much of the race, before slicing through at the Park corner, 
only to be re-passed further round the same lap.  With just over a lap to run, Dennis flung his machine up the inside at the first hairpin 
and defended to the flag.  "I really pushed hard to stay with Jake and then the tyres came on I got him," said the Racing Steps Foundation 
backed youngster.  Behind them, Sennan Fielding came through to challenge and take Jacob Stilp for third, but went no further 
towards the lead duo, complaining of poor brakes.  Stilp was pipped by Barnicoat on the last lap.  The second final was almost a repeat.  
Dalton had gone past Dennis early in the race to lead, with Dennis tracking him all the way until the action hotted up again.  
The pair exchanged the lead several times, before Dennis once more managed to keep the upper hand.  "He did a good job again, 
I caught him after the start when I had a good tow, but once he got past at the end he just had a great defence," said an admiring Dalton.  
Fielding had been caught napping at the last hairpin by Stilp on the first lap, but managed to regain third on the last lap, 
Xavier Warburton in close touch.

Results Final 1
1 Jake Dennis Topkart/IAME
2 Jake Dalton Tonykart/TM
3 Sennan Fielding Topkart/TBA
4 Ban Barnicoat Tonykart/TM
5 Jacob Stilp Kosmic/TM
6 Matthew Graham Tonykart/TM

Final 2
1 Dennis
2 Dalton
3 Fielding 
4 Stilp
5 Xavier Warburton Tonykart/TM
6 Graham

Championship Points (Provisional)
1 Jake Dennis 100
2 Jake Dalton 96
3 Sennan Fielding 92
4 Jacob Stilp 87
5 Matthew Graham 84
6 Xavier Warburton 84

KF2 –ABkC National Kart Championship
Jacob Norftof took top honours in both finals on his first visit to the Shenington circuit.  The 16 year old from Slagelse in Denmark 
races for the top line RFM team and came fourth in timed qualifying behind Sam Snell, Callum Bowyer and fastest Jake Lloyd.  
He was still finding his feet through the heats, both won by Lloyd and he dropped back to seventh at the start of the first final.  
Lloyd's lead was quickly usurped by Steven Napier, then Bowyer took the upper hand whilst Lloyd had a tangle in the chicane 
and fell back.  Nortoft was now on the tail of the four way lead group, working his way to the front then aided when Napier and 
Bowyer started scrapping over second, Napier just having the edge over the line.  

With pole position in the bag, Nortoft was relatively untroubled in his victorious second final run, over 23 laps of the 1km circuit.  
When Bowyer lunged Napier at the Café corner, the ensuing scrap took the heat off the leader, but Napier again just regained 
second by the flag. Bowyer was quite content with this brace of thirds at his first KF2 Super One.  
Lloyd failed to make progress and was forced to settle for ninth.

Results Final 1
1 Jacob Nortoft Alonso/Vortex
2 Steven Napier Tonykart/TM
3 Callum Bowyer Tonykart/TM
4 Alex Walker Tonykart/TM
5 Rob Foster Maranello/Maxter
6 Sam Snell Intrepid/TM

Final 2
1 Nortoft
2 Napier
3 Bowyer
4 Snell
5 Jordan King Energy/TM
6 Walker 

Championship Points (Provisional)
1 Jacob Nortoft 100
2 Steven Napier 96
3 Callum Bowyer 92
4 Sam Snell 86
5 Alex Walker 86
6 Rob Foster 84

Comer Cadet ABkC National Championship
Max Vaughan and Tom Harvey dominated the two finals, but it was Lando Norris who made the early running 
after topping timed qualifying and taking the first heat to earn pole for the first final.  Jordan Gilbertson and Max Vaughan took the others.  
Although no stranger to Shenington, Welsh champion Harvey was tackling the Super One for the first time.  Norris and Harvey were the 
early leaders in Final 1, until Vaughan worked his way up to the front from his poor start.  Norris lost touch when he took a trip over the kerbs, 
finishing fifth.  Despite everything thrown at him by Harvey, Vaughan took victory by one hundredth of a second.  
Connor Jupp pounced on Gilbertson on the last lap for third.  The second final was a virtual repeat, except for a flurry 
of lead changes towards the end, Vaughan getting the upper hand and defending strongly to the flag.  Over two seconds in arrears, 
Jupp just held Norris off over the line, one hundredth of a second the gap, with TJ Nelson coming up to fifth.  

Results Final 1
1 Max Vaughan Zip
2 Tom Harvey Zip
3 Connor Jupp Zip
4 Jordan Gilbertson BRM
5 Lando Norris Tonykart
6 Darius Karbaley Zip

Final 2
1 Vaughan
2 Harvey
3 Jupp
4 Norris
5 TJ Nelson Zip
6 Nathan Aston Zip

Championship Points (Provisional)
1 Max Vaughan 100
2 Tom Harvey 96
3 Connor Jupp 93
4 Lando Norris 87
5 Trevyn-Jay Nelson 83
6 Jordan Gilbertson 83

SKF:Timed Qualifying, Heat 1, Heat 2, Final 1, Final 2
KF2: Timed Qualifying, Heat 1, Heat 2, Final 1, Final 2
KF3: Timed Qual,  Heat 1, Heat 2, Heat 3, Final 1, Final 2
Cadet: Timed Qualifying, Heat 1, Heat 2, Heat 3, Repechage, Final 1, Final 2
Provisional Points Tables:
Points Super KF
Points KF2
Points KF3.
Points Table for Cadet
Go here for the MSA Championship's newsletter 
Picture Gallery images courtesy of www.kartpix.net & TSR Productions
Next round

    Round 2 of the championship will be held at Larkhall on 24/25 April